Sloth (Formerly known as Queen mother)
Artist Bram Ellens' Sloth is part of a series of robotic characters created to explore the relationship between humans and technology. The series, called Robots in Captivity, kicked off in 2020 and is still expanding.
In a 6-month multi-disciplinary collaboration, Bram Ellens' worked with philosophers, composers, and the university of Utrecht, on the research question 'How fast are robots adopting human traits?'. The work evolved to reveal humans are adopting robotic traits just as fast if not faster. Sloth embodies this touching moment of development towards each other.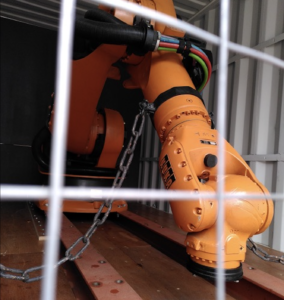 At over 3.6m tall and weighing in at 1.3 tonnes, the subtleties of his movements are often overlooked. A chain of metal rings connect to his container in fluid lines, emphasising delicate gestures and mapping his cautious 240 Volt 8500 Watt power moves in echoing motion and sound.
Built on the robot model KUNA Naranja Regina Mater, which toured the world for over 26 years, this robotic art piece highlights the metallic tenderness -and awkward imperfection- of human and technological evolution.
Come see Sloth's cautious 240 Volt 8500 Watt power moves outside the museum. No ticket needed, meet and greet Sloth free of charge.