A sense-tingling cultural recharge awaits.
Nxt Museum showcases 7 large scale
art installations made by scientists,
artists and algorithms.
The immersive works in Nxt's exhibition Shifting Proximities scrutinise the ways in which technology dictates the way we move through the world. Discover uniquely curated works delving into surveillance technology and algorithmic bias.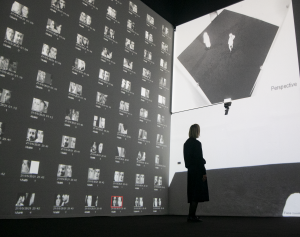 Discover Amsterdam Noord:
In the creative hub of Amsterdam Noord, a short free-of-charge ferry ride from Central Station, be the first to report back on forward-thinking concepts and find tucked away gems in the surrounding area.
Plan your trip to the future:
– Skip the weekend crowds and re-up your inspiration bar
with a special student rate on weekdays.
– Find free lockers and wifi upon your arrival.
– Want to share the experience? Bring your favourite
partner in spacetime and swap notes on the future-
looking artwork over drinks at our bar/restaurant;
or broadcast your experience on your socials from
this 1400 sqm former TV studio turned gateway
to the future.
Open Daily:
Sun – Wed: 10:00 – 20:30
Thurs – Sat: 10:00 – 22:30