Het Parool's take on UFO-Unidentified Fluid Other
"In the Nxt Museum metaverse, being different is the new norm" – Edo Dijksterhuis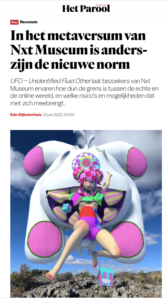 "UFO- Unidentified Fluid Other allows visitors to Nxt Museum to experience how thin the boundary is between the real and online world, and what risks and opportunities this entails.
A virus scanner manufacturer calculated in a recent radio advertisement that we spend an average of 21 years of our lives online, sometimes as ourselves, but often as avatars or another digital doppelganger. Due to the lockdowns and isolation during the Corona pandemic, this virtualisation of daily life – and therefore of ourselves – has accelerated.
Most of the work in UFO – Unidentified Fluid Other was created during that pressure cooker period. This includes Viatrix, a creation by Harriet Davey who acts as a guide on a journey of discovery along the increasingly thin line between the physical and the virtual world. It is a hairless creature with hooves, almond-shaped eyes and a flat nose, but without any sexual characteristics. "I'm the portal that crashes your hard drive,' Viatrix warns. Each time he/she returns, in the transitional spaces between the major works, the movements first become less mechanical, more human. Then, luminescent organs sprout from the pink head and the environment becomes a mix of realistic-looking mountains and fluorescent fantasy plants.
Seduction Technique
The first major work in the exhibition is by Ksawery Kirklewski and still uses a fairly conventional visual language. Strings of red lights run like veins across the floor to a large area on the wall, reminiscent of a billboard. Our faces are shown in coarse pixels, after they have been picked up by cameras and infrared sensors. It is the seduction technique of technology: we fall in love with ourselves, magnified and translated into light
After that, Lu Yang immerses us in the game world. Upon entering you are bombarded left and right with images and sound. At the back of the room, other visitors are at the controls: do they control the action or are they part of the game? Recycled characters from Yang's previous games can be seen on the screens, but a villain can just be turned into a hero and gender is not fixed here either. In a metaverse where no one cares about mutants or monsters, being different is the new norm. The anonymity of the internet can have an emancipating effect on groups that are confronted with discrimination on the street. On the other hand, online is also the place to celebrate diversity, as Jacolby Satterwhite shows.
His one-hour film based on drawings by his late, schizophrenic mother is a surreal choreography in which SM bondage, vogueing and science fiction aesthetics go hand in hand.
Futuristic Baroque
Visitors can themselves become part of such a world in Audrey Large's installation. Around a 3D-printed sculpture in a style best described as 'futuristic baroque', a catwalk runs along large screens. Some of them show the digital only fashion from The Fabricant. On others you see yourself digitally dressed with an exotic face mask or a dress that swings nicely when you move your hips. In these works the concept of identity and the self is stretched and you can playfully get used to the idea of ourselves as cyborg. But the large-scale projection by Julius Horsthuis shows that there are limits to this. Horsthuis built a constantly changing environment based on fractals. You can recognize Gothic buildings and underwater parks, but sometimes it becomes so abstract that all support disappears. Not only do we lose reference points, but we also lose ourselves, literally, because you feel like you're going down.
Immersion
UFO is the second exhibition by Nxt Museum, which opened last year with Shifting Proximities, a sample of new media art. The current exhibition is more focused, feels more like a whole. The topic is current but not new. Body Drift: Anatomies of the Future in the Design Museum Den Bosch or Real Feelings: Emotions and Technology in the Eindhoven MU were about more or less the same thing.
But those presentations were mainly reflective, with the visitor in the role of spectator. Nxt Museum goes for complete immersion: you stand in the works instead of opposite them, and most of them are interactive. This also includes the so-called POAPs (Proof of Attendance Protocol), a kind of digital badge that you can track down in the halls, collect and share online with like-minded people. Whoever finds all POAPs will receive an NFT, a digital artwork, 'airdropped'.
Dark sides
Despite all the fancy terms, UFO is not an uncritical celebration of technological progress. The dark sides are highlighted in background texts. However, this does not happen on signs in the room, but via the smartphone: the comments about virtuality are itself part of it.
One of the major pitfalls of the digital double life is the fear of missing out in an increasingly fast-paced environment, which has caused many online superheroes to burn out in real life. Nxt Museum asked Oseanworld, the creator of the large work in the last room, four times to slow down the speed of his work. It is still a barrage of crazy voices, staged electro pop, advertisements and reflections. But every few minutes the pace drops and an invitation to join a game follows. Jumping over rainbows or fireballs may sound a bit childish, but the visitors who until then were completely sucked into the screen, are finally occupied with each other and with their own body.
UFO – Unidentified Fluid Other, at Nxt Museum, Asterweg 22″
Article by Edo Dijksterhuis, published June 13, 2022 in Het Parool