Pair our mesmerising digital art, Realtime, with a glass of wine selected by Café Restaurant Metro.
From 15th-25th September we're opening our doors for 'Fine Wine and Realtime' – you'll have access to 3 artworks in a special event for €9.50 per person.
Tickets & Add-Ons:
€9.50 Realtime expo ticket
€25.00 Bottle of wine
€5.00 Glass of wine
€4.50 Coffee/Tea/Kombucha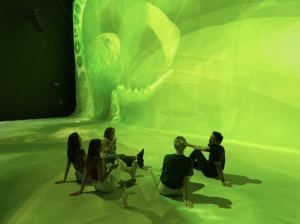 — Gather your friends for a memorable art experience
sip, socialise, and savour digital art. Realtime is housed in our largest exhibition space and showcases 3 pioneering digital artworks which delve into the impact of emerging technologies on our lives and the environment.
— About the Realtime Expo
Realtime explores big open questions facing humanity as technology develops faster than ever. Discover:
🐠 Libby Heaney's Q is for Climate (?) which asks whether it is possible to use quantum computing to start thinking like the climate itself
🍂 Amelia Winger-Bearskin's work MIDNIGHT & TO BODY which examines humanity's relationship with the sky.
🔬 Decohering Delineation by Entangled Others and Robert M. Thomas' which explores the biological wisdom of the ocean by using AI tools.
Tickets