Tingle your senses during these Autumn evenings at Nxt Museum. Wonder as kaleidoscopic bursts of galaxy particles cascade across your skin; gaze at the ebb and flow of tree root networks; feel your body move through planes of smokey light – then turn to your culture-curious co-pilot and say, wow.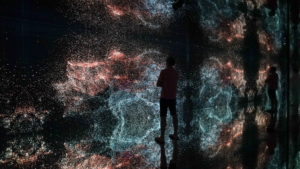 Uncover 7 immersive installations with your date, mate, brother or mother, in Amsterdam Noord.
Good to know:
– Ten minutes away from Central Station,
– link up after work and take a grey day to the nxt level experiencing uniquely curated new media artworks until late.
– Digest your shared experience over drinks at our on site bar/restaurant; or take a stroll amongst Amsterdam Noord's burgeoning cultural sights, discovering tucked away gems with your favourite partner in spacetime.
Sense-tingling new memories await.
Open Daily:
Mon-Wed: 10AM – 8:30PM
Thu-Sat: 10 AM – 10:30 PM
Sun: 10:00 AM – 8:30PM
Ticket prices:
Regular Tickets:
From €20.50
Students: €17.50