Welcome to a space for experimentation, research, development, failure and collaboration.
Within this space, we invite all thinkers, makers, listeners, creators and destroyers
to join us in our quest to seek, show and debate what's next.We aim to facilitate learning in the fields of createch, empowering our community with new skills.
For 2022 we have two workshops on offer for school groups, at a time and date that suits you. Please get in touch to book your group workshop!
Slow Looking
The Slow Looking Workshop is an exercise to slow down the ways in which we look at the world around us and how this practice can support deep learning across subject matters.
In this workshop, you explore a single artwork through a series of guided activities, including close looking, careful listening, creative writing – and drawing. Connect your findings to bigger systems and integrate the concept into your own learning and innovation process. This workshop is set up to empower anyone to take the time to look slow in a world of fast information.
WHAT WILL YOU GET UP TO?
– Introduction
– Museum exhibition visit – explore connection to the 10 large scale new media artworks in the current exhibition: UFO – Unidentified Fluid Other
– Workshop Slow Looking 6 steps at one specific installation in the current exhibition.
WHAT WILL YOU LEARN?
– Slow down: to observe the world carefully
Encounter the concepts of close looking and careful listening
Explore how you fit into bigger (social) constructs like school, sports, or work
– Share: Exchange stories about people, place, and identity
Learn how to collect and tell stories in a meaningful way
Get to know different communication models and modes of interaction
– Reflect: on how your own live connects to bigger human stories
Learn more about themes and technologies that you use every day – and how to read them
Gain new insights into your everyday lives, communities, and identities – on and offline
GOOD TO KNOW
– Max 30 students per workshop
– 2 – hour programme
– This workshop is for students of all ages (different set up for under 12 years old)
COSTS:
– Elementary schools & Highschools:  125€ + 24,50€/per person
– Students: 125€ + 27,50€
Filter Creation
We all know and use them: Augmented Reality Filters. In this workshop you will learn how to create your very own filter to tell your story in an AR environment.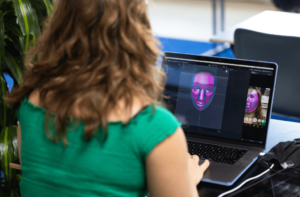 Masks have a long tradition across various cultures and a shorter – yet impactful – tradition in the digital world. Throughout this 4 hour programme, we'll give you the tools and you'll craft your own AR filter-mask.
Get inspired by new media artists, get to know the ins and outs of using AR software, and relate your work to the installations in the museum. This workshop asks for your imagination and creativity whilst daring you to show off what it is that makes you – you.
To top it off, have the chance to showcase your AR creations in a Filter Creation Spotlight in Nxt Museum.
WHAT WILL YOU GET UP TO?
– Introduction Lecture on AR filters and masks used in social media, the arts, and various cultures, given by specialists in the field.
– Museum exhibition visit – explore connection to the 10 large scale new media artworks in the current exhibition: UFO – Unidentified Fluid Other 
– AR Filter creation workshop in "Lensstudio" (software)
WHAT WILL YOU LEARN?
– Software skills AR Filter creation using "Lensstudio"
– Critical reflection towards the usage of face filters and masks
– The history and theory of masking
– Creative expression using face filters
– The impact of new technologies on society and culture
GOOD TO KNOW
–  Max 30 students per workshop
–  4-hour programme (1/2-hour introduction, 1-hour Museum visit, 2 ½-hours workshop)
– Bring your own laptop
COSTS:
– Elementary schools & Highschools:  175€ + 39,50€/per person
– Students: 175€ + 42.50€/per person